There has been no bigger – or more divisive – discussion in asset management than the complex topic of sustainable investment. In March 2020 we published our ESG report, which explored the complex conversation surrounding ESG and identified what we believed would be the key stories within the space.
Drafted before Covid-19, our report honed in on a number of topics that our analysis showed would likely dominate 2020. We got quite a few things very right, but there were some topics we didn't foresee. More on the those later.
Fast forward to 2021, the Covid-19 pandemic has led to market volatility and industry-wide disruption, but one positive thing that has emerged from 2020 is a heightened focus on ESG. This was particularly true in the context of ETFs, a major area of 'White Space' we identified in our report. By the end of August 2020, flows into ESG ETFs in the US alone had more than doubled from 2019 levels, from $8.8bn to $18bn. Another key area of 'White Space' we observed was the need for greater transparency – and indeed comparability – a debate that continued in the form of discussions about greenwashing. Added momentum came from the pressure of regulators, with developments in EU Disclosure Regulation and EU Taxonomy Regulation.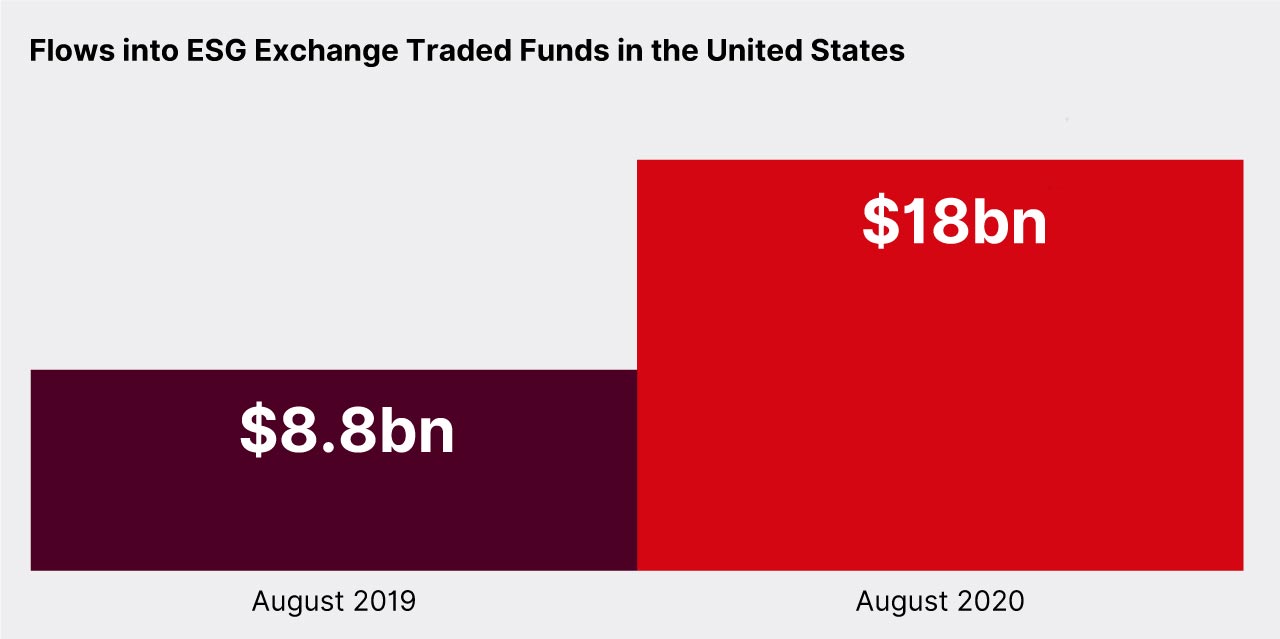 The Pandemic's Impact on ESG
The global pandemic changed the conversation around responsible investment in several ways and has caused a paradigm shift in the way that we think. We have all been forced to reassess the way in which we live our lives and, in many cases, radically re-examine what we mean by resiliency. If the Global Financial Crisis of 2009 refocused our collective minds on financial stability, the events of 2020 have caused a reconsideration of our biological and societal resiliency.
ESG – particularly the social element – has become a focus for those seeking to invest in areas which have the potential to drive meaningful societal change. BlackRock are a good example of this. They have announced that they will push companies to achieve net zero emissions by 2050 and suggested that companies which fail to do so, may be dropped from its actively managed funds. This form of active ownership is key to furthering the sustainability agenda.
ESG funds have also gained attention and credibility for their resilience when markets crashed and stocks plummeted in March. Morningstar research found that 77% of ESG funds have survived the last 10 years, compared with only 46% of traditional funds. The blend of this resilience and a fresh post-Covid perspective has meant that in the aftermath of last year's volatility, many investors moved into ESG.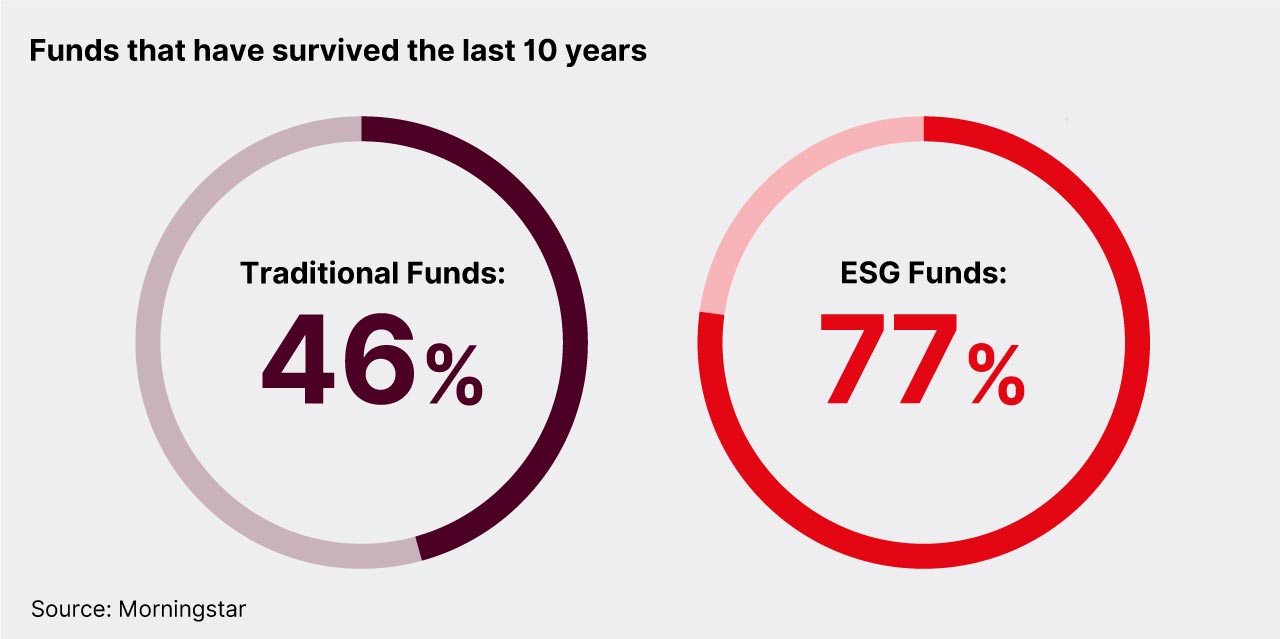 Insights from Marketing Leaders
Recently, we were fortunate to sit down (virtually) with two marketing leaders in the responsible investment space. In our latest podcast, we were joined by Bethany Morris, Co-Head Global Content Marketing, ETF, Indexing & Smart Beta at Amundi, and Johan Hillebrand, Executive Director, Global Head of Content at Robeco. Both Amundi and Robeco are among the distinguished brands in the responsible investment space, and they were also strong performers in our ESG marketing report 2020, in no small part due to their industry-leading thought leadership.
"There is not a single client meeting, wherever we are in the world, that does not involve ESG as a key topic."
Bethany Morris, Co-Head Global Content Marketing, ETF, Indexing & Smart Beta at Amundi
Discussing what they expect to be the biggest trends of 2021, Johan Hillebrand noted that he believes climate change, decarbonisation and the SFDR launch in Europe will be a focal point. For Bethany Morris, the direction of the industry is rooted in authenticity, and how brands can cut through the noise in what has become an increasingly crowded space. She explains: "There is the challenge that anyone can track an ESG index, we are all ETF providers, we all track indices, so everybody is claiming they are leaders in ESG and have all the funds, but just being able to track an ESG index isn't really what defines you as a leader in that space."
Our 2020 ESG report explored how firms can identify where the 'White Space' can be found in a discourse which has grown highly convoluted. Since the publication of the report, the relevance and importance of this has increased: for Johan Hillebrand, meaningful insights into the conversation around sustainability are achieved through research as well as "being vocal on the category and being willing and able to contribute to the discussion [...] bringing the category as a whole further."
The Future of ESG
The topic of ESG has permeated into every corner of the asset management industry over the last year, and the space has increasingly saturated. However, the conversation surrounding ESG is clearly still evolving. We mentioned at the beginning of this piece that there were topics that we had not foreseen being as significant as they would later become. Both the conversations around global healthcare and around social justice achieved even greater prominence in 2020 than we might have predicted and will likely dominate the discussion throughout 2021. Despite the inevitable uncertainties in the year ahead, we can rest assured that international finance has a very important role in helping find sustainable, equitable and resilient solutions for investors, savers and our wider communities.