Baker Gladstone & York (BG&Y) are a group of independent financial advisers that focus on a Greater London roster of clients.
Peregrine was initially commissioned to deliver a full rebrand, and following the success of that project, we worked with the BG&Y team on a digital marketing strategy.
Objectives
The previous brand identity lacked presence and consistency across its various outputs. It was clearly a missed opportunity, since BG&Y has such a good customer satisfaction track record. Visually, the brand wasn't really tapping into the service quality level that the company offers.
Once the website was rebranded, BG&Y ran their first digital marketing campaign. Tied in with a blog post around tax year planning, the aim was to drive prospects and existing clients to the newly designed site.
Strategy
Our aim was to create powerful and memorable branding that accurately expressed BG&Y's standards of excellence, and long-term client relationships. One of the concepts resonated with the client immediately, featuring a typographical composition using the company's initials. We realised that the ampersand could be used as a visual element in a meaningful way, also emphasising the idea of a strong connection between BG&Y and their clients.
The elegance of the letter shapes of the logo is complemented by a geometric pattern that hints the initials and gives a more modern edge. That contrast is also explored on the colour palette, where the premium feel of the dark blue is paired with fresh and bold secondary colours.
Below is a list of deliverables that Peregrine worked on:
Rebranding
Stationery (business cards, letterhead and envelopes, comp slips)
Template documents for presentations and reports
Marketing materials (expert guides, folders)
Team photography
Website design and build
Image bank curation
LinkedIn Sponsored Content campaign
Google search campaign
Email marketing campaign
Customised blog page
The website redesign was one of the key deliverables on this project. The main goal was to make sure the branding translated seamlessly to a digital environment, as well as having a clear user journey and responsive interfaces throughout all screens.
Once the new website was designed, we developed a digital marketing strategy to drive prospects to the relevant service pages, and to the 'Get in touch' page.
At the beginning of the year Peregrine created a customised blog page, hosted on the website, highlighting tax reliefs and allowances to take advantage of in 2019. Clear contact information, the campaign GIF and option to download a full tax year planning guide were added to the landing page. This content was designed to match prospect's hot buttons and spark initial interest.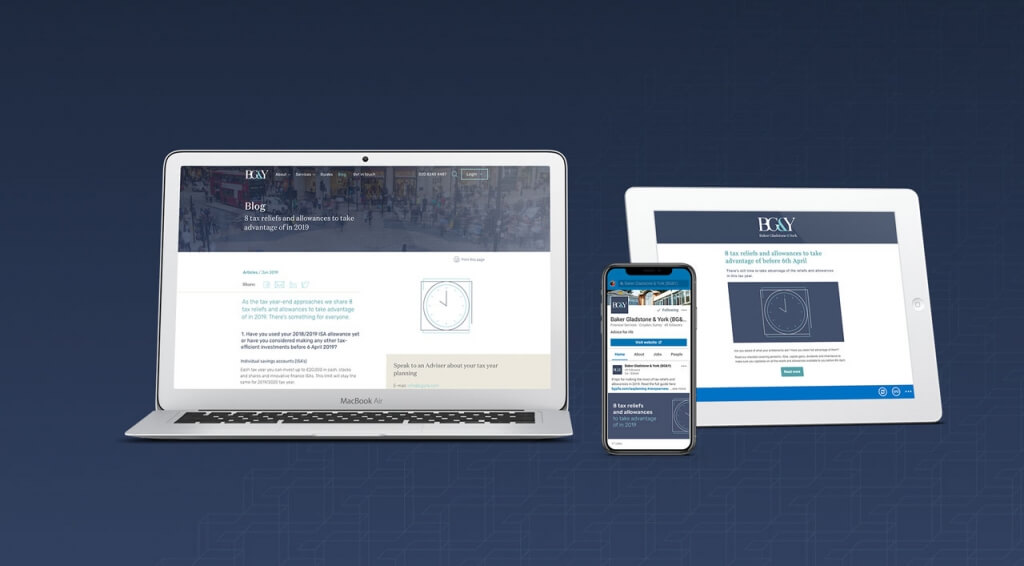 A LinkedIn Sponsored Content campaign was created to meet prospects on their platform of choice, complete with the campaign GIF, 'follow' and 'learn more' buttons. An email marketing campaign was also executed in a similar style to the LinkedIn campaign and landing page, using the campaign GIF. The mailout was sent to a list of clients and to a list of broader company contacts.
A Google search campaign was then run for a period of two months to direct website traffic to the new 'Pensions advice for changing jobs' service page, which was created as one of the main reasons people look for pensions advice is because they are changing jobs. This page would give BG&Y an SEO advantage for such searches. The campaign would also increase overall website traffic as users navigated to other parts of the site. Keywords relating to key services were identified and successfully bid for.
Results
The result is impactful branding which reflects the company's personality and works consistently across all media platforms. The team at BG&Y was thrilled with the new branding and pleased with how the project was managed from the beginning to implementation stage.
191%
The LinkedIn sponsored content and email campaigns meant that the website saw a increase in visitors by 191%, and overall sessions by 181%, compared to the previous month.
1,508
Overall page views went from 397 the previous month to 1,508 during the campaign, an increase of 280%.
11x
Email campaigns saw a CTR (click-through rate) 11 times higher than average.
25,084
The LinkedIn campaign generated 25,084 impressions, 111 clicks, with a CTR of 0.44% (previous average CTR was 0.30%).
380%
The Google search campaign generated a 48% increase in overall website traffic and a 24.3% increase in visits to the 'Get in touch' page. The campaign landing page generated 380% more page views than the second most popular services page.